The Pocket or Pouch Loom is based on the old cardboard looms. Great for making small drawstring or flap closing pouches. Easy enough for beginners and older children, the pocket loom can also be used by the advanced weaver as a small sampling loom.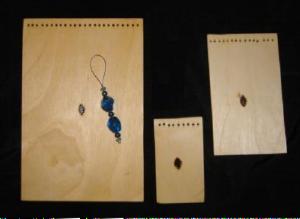 Pocket Loom set of 3

The Pocket Loom comes as a set of 3 looms, 1 threader used for both the looms and the needle, a tapestry needle, and a small booklet to help get you started. Threaders come in an assortment of colors.
Thank you for your interest in our products. If you choose to buy more than one item at a time, please send us your list of items and we will send you an invoice. Thank you for your patience.
Pocket Loom set of 3
$19.99 plus $5.49 US Shipping

We do SCA events and Renaissance Faires throughout California and as far out as Pennsylvania, if you see us at one of these events feel free to stop by for help or just to chat about weaving.
All of our wood products are marked with our pinecone brand, so that you know you are receiving a Palmer Looms original. These are not a buy / sell product, each piece is handcrafted with care, by my wife and myself.
Shipping is by Priority Mail. Yes we will sell to out of U.S. buyers, out of country buyers please contact us for shipping quote before making your purchase, thank you.
We accept Pay Pal with confirmed addresses only, U.S. postal money orders, cashiers checks, e-checks, and personal checks. Your shipment will be held until your e-check or check clears.

Shipments normally go out twice a week, except on special order woods.

If you have a problem with any of our weaving supplies, please contact us, we stand behind our products.
Home | Inkle Loom | Card Loom | Loom Sets | Shuttles Bobbins Etc |
Lucets | Pocket Loom | Belt Loom | Sprang Frame | Stick Weaving |
Maru Dai | Crochet Hooks | Knitting Needles | Drop Spindle | Yarn |
Books Pamphlets Etc | Weaving Guides | e-mail | Calendar
Copyright Palmer Looms / Gary Palmer
All rights reserved.
Palmer Looms P.O. Box 880 Joshua Tree, Ca. 92252

Free counters provided by Andale.