Weaving sticks, fun and easy. These have been around for a long time and many of you may remember doing something very similar using straws. Unlike straws that will only last a short time our weaving sticks are made from various hardwoods.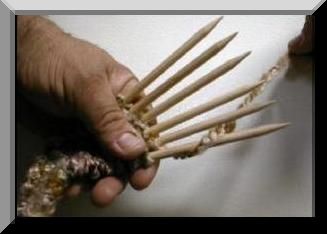 We make our weaving sticks out of various hardwoods from around the world. The majority of our wood is reclaimed, this prevents some of the most beautiful wood from ending up in the dumpster. Each set (except the small basic sticks) is hand rubbed with oil and finished with a hand buffed paste wax, this helps to protect the wood and prolong the life of your weaving sticks.
Thank you for your interest in our products. If you choose to buy more than one item at a time, please send us your list of items and we will send you an invoice. Thank you for your patience.
Set of 6 Oak Weaving Sticks
$19.99 plus $5.49 US shipping

Set of 6 Antiqued Oak Weaving Sticks Light,
natural aging process used
$19.99 plus $5.49 US shipping

Set of 6 Antiqued Oak Weaving Sticks Dark,
natural aging process used
$19.99 plus $5.49 US shipping

Set of 6 Maple Weaving Sticks
$19.99 plus $5.49 US shipping

Our Basic Weaving Sticks in a larger size
1 Sets of 6 Sticks
$14.99 plus $2.49 US shipping

3 Sets of 6 Sticks
$35.99 plus $3.99 US shipping

6 Sets of 6 Sticks
$62.99 plus $6.49 US shipping

12 Sets of 6 Sticks
$107.99 plus $6.49 US shipping

Our Basic Weaving Sticks Set of 6 Sticks not as finely finished as the sticks above great for kids and groups
1 Sets of 6 Sticks
$4.99 plus $2.49 US shipping

3 Sets of 6 Sticks
$11.99 plus $2.99 US shipping

6 Sets of 6 Sticks
$20.99 plus $3.49 US shipping

12 Sets of 6 Sticks
$35.99 plus $4.49 US shipping


We demonstrate the weaving sticks in our booth at the different events we do throughout the year. The information to follow is the same as I tell people at the booth and I hope it will be of use. If you find any other information or documentation please pass it along as this is one of the holy grails of documentation for use in A&S. The fabric produced with weaving sticks is absolutely period. A simple weft face strap or belt, with the warp threads ability for carrying weight and the padded weft makes for good shoulder straps or saddle cinches.

The information we have been able to collect on weaving sticks is one of those unicorn things, everyone has an opinion whether they exist or not, but to get definite proof is a nightmare. From what I can tell you with reasonable certainly is it did exist during the period defined by the SCA, but I have not been able to confirm them into Europe during most of the time period. The North American Indians were using this method to create straps and belts in the Great Lakes area when the French trappers came across them in the 1500's. This is the first point I can put them into the hands of Europeans with any certainty.

Before this time I have a person from Middle Kingdom that supposedly has a book that documents it to have come to Europe during the crusades but in repeated inquires has never been able to find the reference to give me the book title or reference to find it. I have several others that have also told me of this but again no title or author. Similar straps as produced by the stick weaving method are found and large numbers of stick needles are also quite often dug up in large groups. Could these needles have been used to produce these straps yes, but without finding a work in progress like the card set found in the Viking burial ship there will always be a controversy to use this method.

The fabric produced is a weft faced strap with strong warp threads and an over sized weft for padding, and is used world wide through all time periods but with no information on how it was produced. The other methods of making a strap of a simple tabby weave is back strap, inkle and rigid heddle, the inkle is out of period even though it is used extensively in the SCA. To enter into competition you need to remove the strap from the loom and then the finished product is fully acceptable. Without the sticks to set the thickness of the weft, the other methods produce a flat strip instead of a padded strap.

The weaving sticks come with a small booklet to help get you started and a threading tool. The booklet includes basic directions, as well as online help. The threading tools come in a variety of colors, black, white, and most primary colors, please specify when you order, if no color is requested we will pick one for you.

We do SCA events and Renaissance Faires throughout California and as far out as Pennsylvania, if you see us at one of these events feel free to stop by for help or just to chat about weaving.

Shipping is by Priority Mail, from zip code 92252. Yes we will sell to out of U.S. buyers, out of country buyers please contact us for shipping quote before making your purchase, thank you.

We accept Pay Pal with confirmed addresses only, U.S. postal money orders, cashiers checks, e-checks, and personal checks. Your shipment will be held until your e-check or check clears.

Shipments normally go out twice a week, except on special order woods.

If you have a problem with any of our weaving supplies, please contact us, we stand behind our products.

Home | Inkle Loom | Card Loom | Loom Sets | Shuttles Bobbins Etc |
Lucets | Pocket Loom | Belt Loom | Sprang Frame | Stick Weaving |
Maru Dai | Crochet Hooks | Knitting Needles | Drop Spindle | Yarn |
Books Pamphlets Etc | Weaving Guides | e-mail | Calendar

Copyright Palmer Looms / Gary Palmer
All rights reserved.

Palmer Looms P.O. Box 880 Joshua Tree, Ca. 92252

Free counters provided by Andale.