The Lucet is not a new tool, nor is it exclusively for dainty work such as bodice lacing. Lucets were used by many different cultures for making rope for their shelters as well as their ships. The product made using the lucet is 3 to 4 times the size and strength of the original thread used. The lucet is not just for the Ladies, we have almost as many Gentlemen users as we do the Ladies.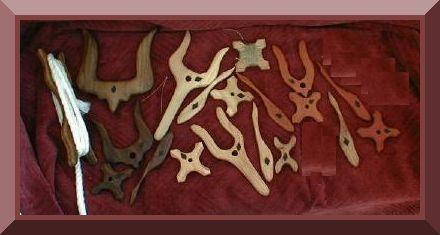 lucets available in assorted woods and styles
this is just a sample picture, these lucets are not available
please email for information on available lucets
We make our Lucets out of various hardwoods from around the world. The majority of our wood is reclaimed, this prevents some of the most beautiful wood from ending up in the dumpster. Each piece is hand rubbed with oil and finished with a hand buffed paste wax, this helps to protect the wood and prolong the life of your lucet. Clean your lucet as you would any wood furniture, oil soap, and a good wood polish.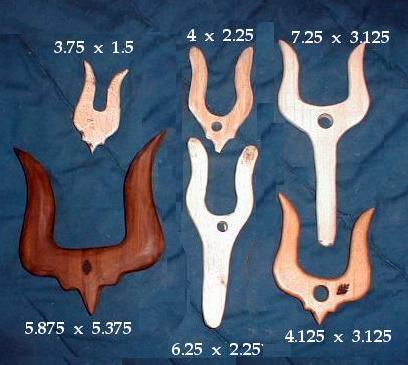 We offer four sizes of Lucets the Mini, Trimmer, Corder, and our Roper. The lucets are sold individually, most can be sold as a set that includes a matching bobbin and pick, the Roper has an extra large bobbin available. The pick was developed by us, to help those with arthritis as well as other medical problems which leave the fingers not so nimble, and those that just need a little extra help picking up that tiny thread. We also offer both handled and handle-less styles. The picks and bobbins are also available separately, you can never have too many bobbins.
Pricing starts at $10.00 to $35.00 for individual lucets, with sets starting at $15.00 to $40.00
We do SCA events and Renaissance Faires throughout California and as far out as Pennsylvania, if you see us at one of these events feel free to stop by for help or just to chat about weaving.
All of our wood products are marked with our pinecone brand, so that you know you are receiving a Pine Box Traders original. These are not a buy / sell product, each piece is handcrafted with care, by my wife and myself.

Shipping is by Priority Mail. Yes we will sell to out of U.S. buyers, out of country buyers please contact us for shipping quote before making your purchase, thank you.
We accept Pay Pal with confirmed addresses only, U.S. postal money orders, cashiers checks, e-checks, and personal checks. Your shipment will be held until your e-check or check clears.

Shipments normally go out twice a week, except on special order woods.

If you have a problem with any of our weaving supplies, please contact us, we stand behind our products.
Home | Inkle Loom | Card Loom | Loom Sets | Shuttles Bobbins Etc |
Lucets | Pocket Loom | Belt Loom | Sprang Frame | Stick Weaving |
Maru Dai | Crochet Hooks | Knitting Needles | Drop Spindle | Yarn |
Books Pamphlets Etc | Weaving Guides | e-mail | Calendar
Copyright Palmer Looms / Gary Palmer
All rights reserved.
Palmer Looms P.O. Box 880 Joshua Tree, Ca. 92252

Free counters provided by Andale.