Our rigid heddle loom can easily be used by itself or in conjunction with a backstrap or larger inkle loom. Just the thing for the historical re-creator, Civil War, Renaissance Faire, SCA, great for making belts, straps, and trim. Easy enough for children, but makes a professional looking belt.
Great little loom for demonstration weavers, you will also find this a handy little tool for sampling color and textures. Weave up to 25 threads wide, at less than 5 inches wide it is small and compact making it easily transportable. This loom made of 1/8" Birch plywood, hardwoods subject to availability price will vary.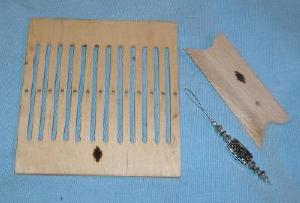 Belt or Strap Rigid Heddle Loom

The Belt or Strap Loom comes with basic instructions, a shuttle and threader. Threaders come in an assortment of styles and colors.
Thank you for your interest in our products. If you choose to buy more than one item at a time, please send us your list of items and we will send you an invoice. Thank you for your patience.
Belt Strap Rigid Heddle Loom
$19.99 plus $5.49 US Shipping

We do SCA events and Renaissance Faires throughout California and as far out as Pennsylvania, if you see us at one of these events feel free to stop by for help or just to chat about weaving.
All of our wood products are marked with our pinecone brand, so that you know you are receiving a Palmer Looms original. These are not a buy / sell product, each piece is handcrafted with care, by my wife and myself.
Shipping is by Priority Mail. Yes we will sell to out of U.S. buyers, out of country buyers please contact us for shipping quote before making your purchase, thank you.
We accept Pay Pal with confirmed addresses only, U.S. postal money orders, cashiers checks, e-checks, and personal checks. Your shipment will be held until your e-check or check clears.

Shipments normally go out twice a week, except on special order woods.

If you have a problem with any of our weaving supplies, please contact us, we stand behind our products.
Home | Inkle Loom | Card Loom | Loom Sets | Shuttles Bobbins Etc |
Lucets | Pocket Loom | Belt Loom | Sprang Frame | Stick Weaving |
Maru Dai | Crochet Hooks | Knitting Needles | Drop Spindle | Yarn |
Books Pamphlets Etc | Weaving Guides | e-mail | Calendar
Copyright Palmer Looms / Gary Palmer
All rights reserved.
Palmer Looms P.O. Box 880 Joshua Tree, Ca. 92252

Free counters provided by Vendio.